**Says 'igi-ose' (baobab-tree) in His Palace is More than 600 Years old
The Iralepo of Isinkan in Akure south local government area of Ondo State, Oba (Barrister) Oluwagbemiga Ajimokunola Olofin-Adimula (Arulewolasi III) has reiterated his commitment to preventing the culture and tradition of Isinkan people.
The Monarch spoke at Ita-owa in his palace in Isinkan when he played host to the Management staff of National Museum in Ondo State.
Oba Olofin-Adimula who took his guests through evolution of Isinkan kingdom said the community has a lots of culture and traditions that are distinct from his neighbours.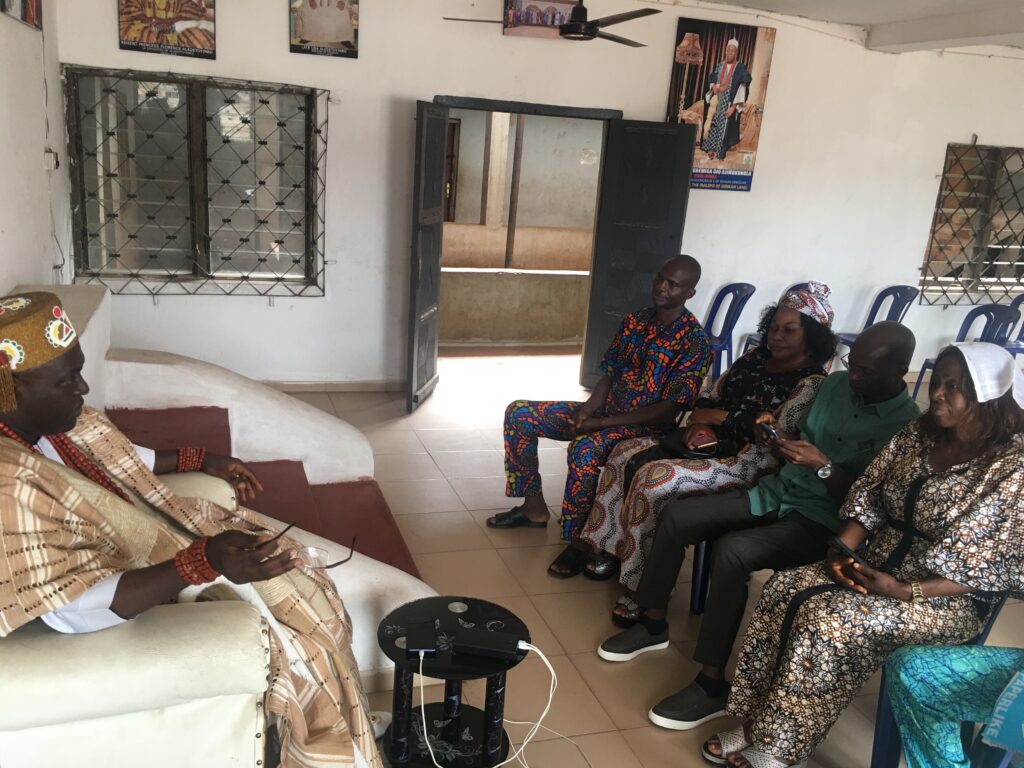 "The Isinkan throne has been occupied by three sets of regnal dynasties namely the Obara sky god dynasty, the Oroko or Oluroko deific dynasty, and the Iralopo dynasty which was associated with Oluroko's return journey to Isinkan from Inamu through Epe and Iyangede after his odysseys to found Inamu with the help of Obalufon, Obatala, Oranfe, and Orunmila."
"Our culture and tradition is so rich and different from other towns and villages around us."
"That igi ose (boabab tree) at the palace and the old palace speak volume of how long we have been here as a community and Iralepo as the Oba of his people."
"Some years ago, some white men came here with a device to ascertain the age of the tree. Now the tree is around 600 years old. You can only see the tree in an ancient palace like Iralepo's palace."
While the Ifa religion states that there are 201 powers in most Yorubaland, Isinkan has 401. That's why our oriki (praise) says "okan le lirinwo ni ifa Iralepo, Irinwo kende."
The Isinkan Monarch said plans are on to package the community's traditional festivals to international standards.
He assured his guests of his readiness to partner with them on how to promote and protect the culture and tradition of Yorubaland.
The Curator of the National Museum in Ondo State, Mrs Janet Yemisi Adegboye who was amazed with the traditional and cultural potentials of Isinkan kingdom said the organization would be willing to showcase them to the world.
While noted that most Isinkan histories had been twisted, Mrs Adegboye called for proper documentation of Yoruba culture, tradition and events.