Commercial activities were at its peak today Friday at Isinkan in Akure South local government area of Ondo State as Traders said they do not observe Aheregbe festival.
Ondo State government had directed all shops and markets in Akure the state capital to Open for business contrary to the directive of the Deji of Akure, Oba Aladetoyinbo Aladelusi.
The traders said Deji's directive couldn't have affected them in the first place because they do not observe Aheregbe festival in Isinkan Kingdom.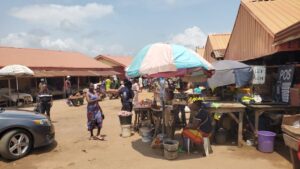 They said they experienced huge turn out of customers.
Some of the buyers interviewed thanked the market women for providing the opportunity to shop.
They also applauded the state government for the directive that shops and market should be opened for business saying it would make Akure, a state capital properly called.
The Isinkan main market, Shops in Isinkan Kingdom and Iralepo Market at Adebowale, all opened for business transactions.