My Marriage is Blessed, I'm the Happiest Woman in the World – Wife
The adorable couple, Chief (Barrister) Olusola Oke SAN and his wife, Dr Daisi marked their 40th wedding anniversary amidst torrents of messages.
It was a moment of joy as family, friends, political associates and well wishers converged on the Church of Christ, Igbokoda in Okitipupa local government area of Ondo State to celebrate with them for their 40th wedding anniversary.
In his sermon, the officiating minister, Rev. Tobi Ayoloto who attributed the high rate of broken homes to many issues such as lack of trust, admonished couples to see themselves as one and always be prayerful.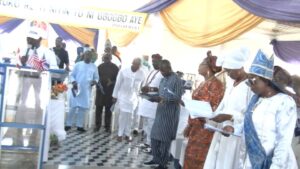 He stressed that marriage is all about challenges that must be surmounted.
Ayoloto encouraged the celebrants to continue to put God first in their home, saying it is the only way to enjoy more of His goodness.
Prayers were said for the couple, Governor Akeredolu and continued progress of the state.
Chief Olusola Oke SAN, an APC chieftain thanked God for the journey so far and said the trust they have in each other is the reason for their peaceful home and a long lasting relationship.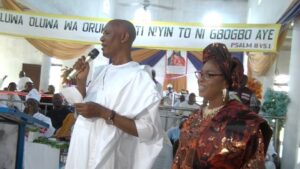 "What has kept the marriage moving is prayers, we have come a long way, we have accomplished, our children are doing greatly in the different professions and I also reached the pinnacle of my career. In terms of enablement, I think God has been very gracious to us."
"What we need to do as from this moment is to dedicate our lives to service to God Almighty and to humanity. And that's why my aspiration as this time is to be in a position where I can serve humanity effectively."Oke said
The elated wife, Dr Mrs Daisi Oke also ascribed the joy in the marriage to fervent prayers.
"The secret of this marriage that we are marking 40th anniversary is prayer. I have always praying for my husband to succeed."
"We have some women who don't prayer for their husband, I was not taught that way. I pray for my husband always, because I believe, husband is the head of the home."
I'm so happy that this marriage is blessed. I'm the happiest woman in the world today." Mrs Oke said
They advised young couples to understand and be happy with each other, saying love in matrimony can only remain evergreen if couples choose to keep away third party and avoid unnecessary interference in their relationship.
The Children including Tolu Oke wished the couple many more years together.
At the reception, guests including the Commissioner for health, Dr. Banji Ajaka, Assembly member representing Ilaje constituency 2, Oluwumi Fayemi, while congratulating the couple admitted that it is a challenge to them and younger couples.
They encouraged them to continue to make Christ the head of their home.
Highlight of the event was the cutting of the wedding anniversary cake while the couple entertained the guests with their dancing steps.