The pump price of Premium Motor Spirit, popularly called petrol, was raised from N537/litre to N617/litre at some filling stations operated by the Nigerian National Petroleum Company Limited in Abuja on Tuesday.
Independent oil marketers confirmed the increase in the cost of the commodity, as they stated that any shift in price by NNPCL stations was an indication of a rise in the pump price of PMS.
"This is because NNPCL is still the major importer of petrol into Nigeria currently, though other marketers are gradually importing the commodity. The price this (Tuesday) morning at some NNPCL stations is N617/litre," the Secretary, Independent Petroleum Marketers Association of Nigeria, Abuja-Suleja, Mohammed Shuaibu, told our correspondent.
Recall that President Bola Tinubu had during his inaugural address on May 29, announced that subsidy on petrol had ended, a development that led to the jump in the price of the commodity from N198/litre to over N500/litre on May 30, 2023.
Since the withdrawal of subsidy on petrol and the floating of the naira against the dollar, marketers had continued to explain that the cost of PMS could rise to as high as N700/litre.
Similarly, the rise in the cost of crude oil in the international market has also triggered further hike in petrol price, as crude is the product from which PMS and other refined petroleum products are produced from.
In Akure, Lagos and Abuja, on Tuesday morning, motorists besieged the filling stations that were still dispensing at N540/litre, but as the news of the hike in price by NNPCL stations filtered in, many independent outlets had to lock their stations.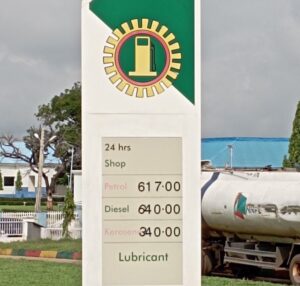 Others immediately commenced the adjustment of their pumps to reflect the new price. The NNPCL and the downstream oil sector regulator had yet to make any statement on the development.
Details later…