The actions and inactions of man, particularly political leaders, put God at risk of sharing in the blames when they exempted their failures and lack of responsibility and accountability as acts of God.
This was the submission of a Professor of Religious Studies, Benson Igboin, while delivering the 19th Inaugural Lecture of Adekunle Ajasin University, Akungba Akoko, entitled, "The Risk Being God."
Igboin posited further that some political leaders wieldedpowers of life and death in the course of governance, and were quick to attribute failures of governance to acts of God, thus avoiding to accept responsibility by cleverly shifting the responsibility for such acts on God, leaving many to blaming the omnipotent for such acts.
He also pointed out that unlike scientists and atheists, believers further impugned the character of God and put him at risk with the dissonance between their beliefs and what they think, say and do.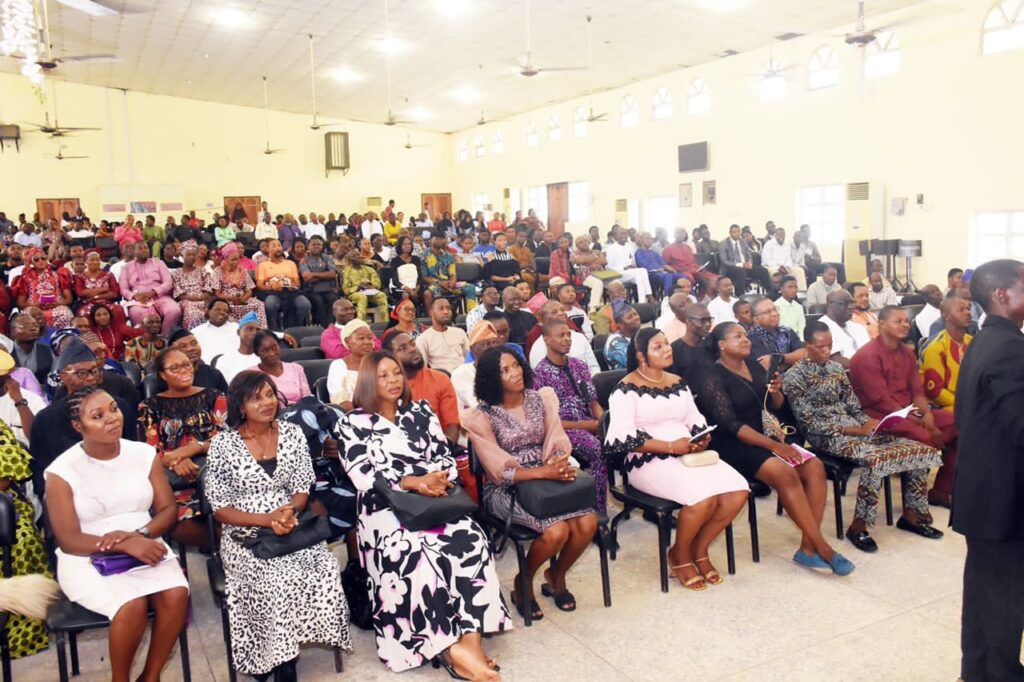 In his words, "The theological metaphor of power strongly resonates with our politicians. I have analysed such recurrent phrases as 'by the grace of God,' 'Insha Allah,' and 'Acts of God,' which predominantly form the political, philosophical, and religious refrain of politicians, and came to the sobering conclusion that the people will continually be deceived by their political rulers' excessive reference to God and the scriptures.
"When bombs blast, when elections are crudely rigged with stark evidence of human carnage, when whole villages are wiped out overnight, when corruption stinks and stings, when morgues are safer than the hospitals, or the dividends of democracy are brutally denied the robbed voters, our politicians-in-chief are fast in referring to them as the acts of God.
"If these are all acts of God, where exactly are the acts of men and women in Nigeria? What are the acts of Satan? Such fatalistic responses to the state's failure have been ingrained in the citizenry such that challenging anything is regarded as unpatriotic."
Prof. Igboin added that God would continue to be at risk of being demystified if theists continued to pursue unbridled materialist pleasure as a hallmark of salvation and if God was not adequately understood and designated.
He posited further that God would continue to be at risk if humanity continued to physically and violently defend God, and aggressively pursued the bios-based ethics to the utter neglect of the mora-zoic ethics that guaranteedhuman flourishing, humanity would put itself at greater risk of extinction whilst it indicts God for not acting to prevent its self-destruction.
"The more God is instrumentalised, the more he is at risk. In other words, once God is conceived as a means to an end, he is indicted and put at significant risk. God is at risk when God is loved for what humanity believes it stands to gain from him. He becomes a disposable being whose worth depends on his human-determined performance.
"It is clear that it is not so much the atheists of scientists who put God at risk. The atheists fully understand whom they deny or reject. By their negative characterisation of God, they show their deep reflection on the nature of God. However, those who claim that they believe in their created gods have put the uncreated God at risk. The atheists most solid and profound ground for rejecting or denying God's existence and omnipotence is the religious behaviour of those who claim to believe in and defend God. Therefore, if God is at risk, the believers put him at risk by what they think, say and do."
He argued that, "If God exists and he is knowable as various religious believers want us to believe, it is difficult to know the particular God that exists in which they want us to believe. If the God they want us to believe in is the same God that they individually absolutise, then the God they want us to believe in must be different from the God that exists. The God, who the believers want us to believe in is a God that they have described in limited form, which raises the question of whether the God they want us to believe in is the same God they claim exists."
The Inaugural Lecturer noted that every believer who 'claims that God exists tends to absolutise their position or belief in God's existence somehow, adding that the belief in God by Nigerian 'religioscape' has been the boon and bane of national unity.
He posited that, "The God of Idahosa is not a poor God; the God of Kumuyi is a holy and righteous God; the God of Adeboye is a miracle-working, and city-building God; the God of Oyedepo is a prophetically and politically-charged and wealth-giving God who blesses on the basis of tithe-giving; the God of Oyakhilome is a youthfully exuberant God who possesses some knowledge of pseudo-science; the God of Okotie is not only apocalyptic and bombastic in his use of words, but also politically ambitious.
"The God of Bakare is not only prophetically political, but also perpetually and politically ambitious to the point that he declared himself the indisputable successor to President Buhari; the God of Rev. King is a sexually promiscuous and life-destroying one, the God of Apostle Ayodele is a prophetically emotive one, the God of Odumeje is comically "the liquid metal, the fight, the lion, the Indaboski Bahose.
"The God of Enenche is the theatrically performing God, in the Christ Apostolic Church, you either hear supplicants call on the God of Babalola at Arakeji or the God of Obadare at Koseunti, whilst the God of Olukoya is a demon destroying God; the demons must indeed die in the name of Jesus! The God of Mbaka is a prophetically passworded one who has "sagaciously subordinated prophecy to statecraft."
According to Igboin, the cacophonies of the voices of many pastors and their followers claiming to be prophets,no doubt, put God at risk.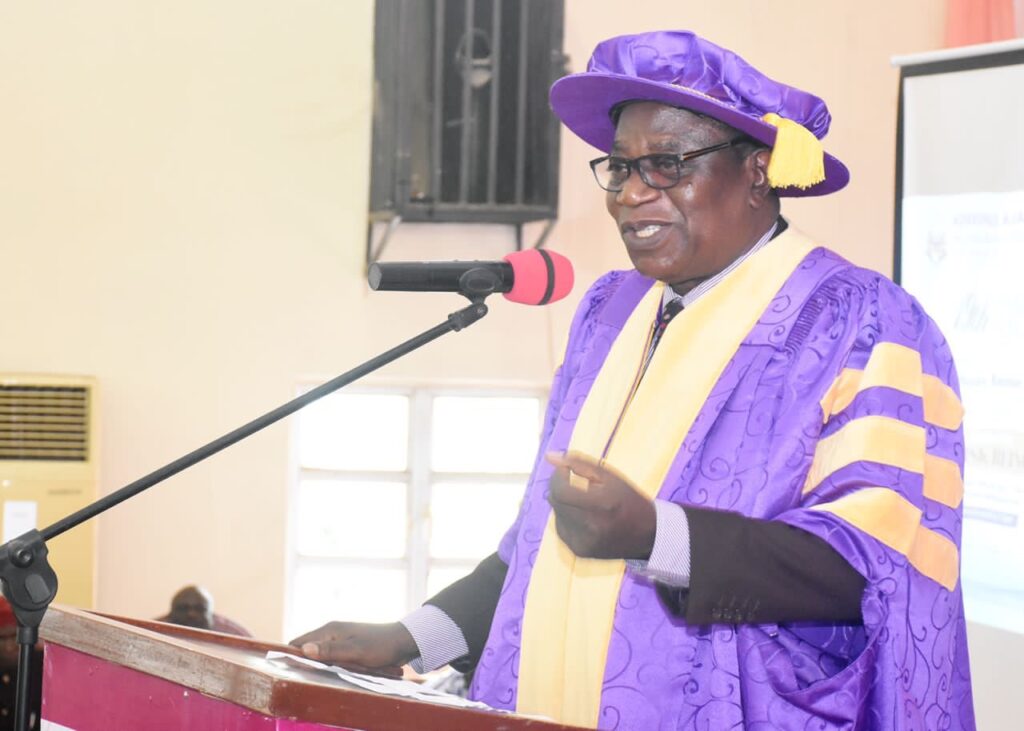 Speaking earlier, the Vice Chancellor, Prof. Olugbenga Ige, had defined inaugural lecture as a platform for Professors to ventilate their experiences and knowledge with a view of positively impacting the society.
He described Prof Igboin, as a well-travelled and sought-after scholar who has attended and presented papers at over 129 conferences and workshops globally, adding that the prolific academic has co-authored and edited 12 books combined, has chapters in 61 books, and has published over 103 articles in learned journals.