Take Full Advantage of Our Conducive Learning Environment – AAUA VC Urges Fresh Students

The Vice Chancellor of Adekunle Ajasin University, Akungba Akoko, Ondo State, Nigeria, Prof. Olugbenga Ige, has urged the fresh students of the Institution to take full advantage of the conducive environment to achieve academic excellence and enhance their personal growth, broaden their horizons and equip themselves with the necessary skills to thrive in a rapidly evolving world.
Prof. Ige gave the advice on Friday, June 16, 2023, at the Matriculation Ceremony for fresh students for the 2022/2023 Academic Session.
The VC said, "Without mincing words, it is our solemn resolve to train and produce graduates who are globally competitive, strong in character and integrity. The University Management has put in place machineries to make the environment conducive for learning. It is our expectation that you will take advantage of these provisions to enhance your learning in this University."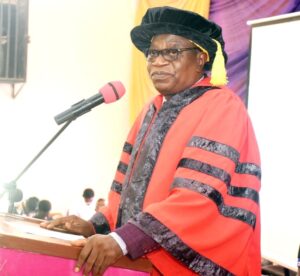 Prof. Ige congratulated the students on their victory over what he described as fierce academic battle to gain admission to the University, saying, "Out of over twelve thousand candidates that applied for admission to this University,only 6,957 were admitted to this prestigious University.
The VC also urged them to be receptive of all the good things that could come their way, either in the lecture halls or hostels, which could enhance their success, reminding them of their academic pursuit as their primary assignment.
Prof. Ige, however, stressed that, "Our University has zero tolerance for all forms of anti-social vices, such as cult related activities, examination misconduct, drug abuse, sexual harassment, indecent dressing, among others. The University, like other responsible organizations, is governed by rules and regulations. These rules and regulations are to guide your conducts and activities in the University. Obviously, there are sanctions for violating them with a view to enforcing discipline in the system.
"Let me also emphasise that our certificates are issued to students who have been found worthy in character and learning. Therefore, I admonish you to be disciplined in your conduct and be time conscious in attending to your lectures and other University functions."
The Registrar, Mr. Olugbenga Arajulu, administered the Matriculation Oath on the students.