***You're Your Mother's Gift to this Nation – Iralepo
The Olusi Obarisha, Kabiyesi the Iralepo of Isinkan, Oba Oluwagbemiga Ajimokunola Olofin-Adimula (Arulewolasi III) has said Isinkan kingdom would rather celebrate the late mother of the Ondo State governor, Lady Evangelist Grace Akeredolu than mourn.
He said attaining 90 years in the face of the current life expectancy and for all the seven children to survive their mother are no mean achievements but blessings received from God.
The Monarch on Tuesday led representatives of Olus, High chiefs, Market women and youths in the community on a condolence visit to the Ondo State Governor, Arakunrin Oluwarotimi Akeredolu SAN at the presidential lodge, government house ground, Akure.
Oba Olofin-Adimula said "while the loss is painful, the community would not mourn but congratulate Governor Akeredolu and his family over the peaceful passage of the late Lady Evangelist Grace Akeredolu and celebrate her life and times".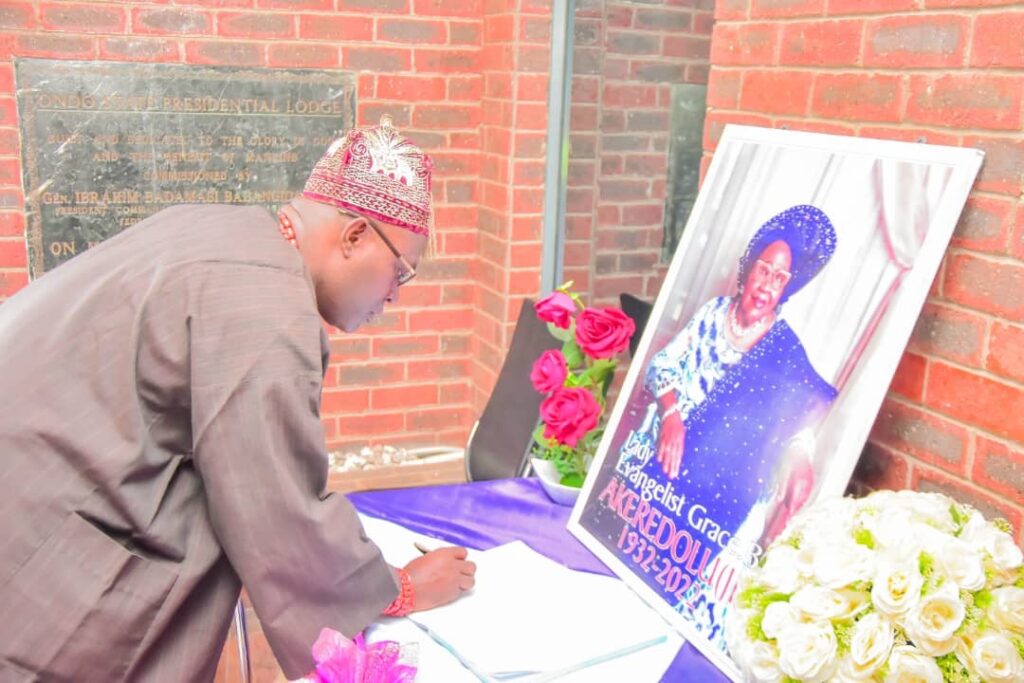 "Mama was a good woman whose good works are evident in the lives of her children especially Governor Akeredolu SAN".
"Mama's values manifest in you as principles of justice, fairness and the fear of God that you have embodied in public service".
The royal father told the governor that these principles have guided him "in the developmental activities" he has "successfully carried out in our state".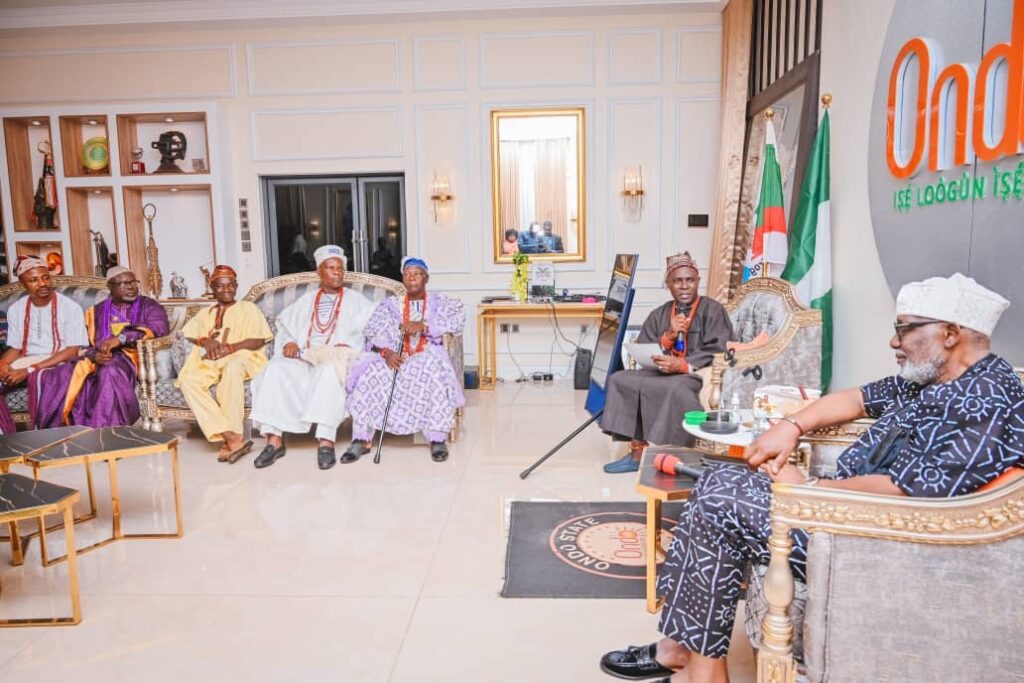 The traditional ruler added that "your standing with truth and Justice over the suppression of the ancient Chieftaincy and Obaship of the people of Isinkan is a clear attestation to the characters of Mama as well as those of your Dad".
The Oba of Isinkan who is the ninety fourth ruler of the ancient town located beside Akure appreciated the enviable life lived by the matriarch of the Akeredolu dynasty , stressing that "Lady Evangelist Grace Akeredolu was a mother and a stakeholder in God's vineyard, who spent her life and time spreading the Gospel of God as a seasoned Evangelist".
The Isinkan Monarch said his people will forever remember the Governor.
Responding, the state Governor, Oluwarotimi Akeredolu SAN appreciated the visit and applauded the community's turnout to comfort him and celebrate his late mother.
He described his mother, Lady Evangelist Grace Bosede Akeredolu JP, as a true evangelist who preached the gospel of the Lord to villages and won souls for Christ.
The Governor said his late mother was a prayer warrior, adding that her prayers and those of other well wishers sustained him till now.